Speaker

Jason Ur, Harvard University

Location

Rye Free Reading Room, 1061 Boston Post Rd, Rye at the Intersection of Purchase Street

Date

October 22, 2017

Time

2:00 pm

to

3:30 pm
In 1995, President Clinton declassified 800,000 photographs from CORONA, the United States' first spy satellite program, in order to make them available for environmental and historical research.  Since then, imagery from the U2 aerial missions and from HEXAGON, the CORONA successor, have been declassified as well.  Archaeologists working in the Near East have been quick to embrace these newly available resource, which capture images of sites and landscapes in the 1960's.  Many of these landscapes have been damaged or destroyed in the intervening 40 years.  This presentation will discuss how CORONA imagery has been used to study ancient landscapes in the Near East, with case studies from Bronze Age Syria, Iron Age northern Iraq, and late Antique northwestern Iran.
Jason Ur is Professor of Anthropology in the Department of Anthropology at Harvard University, and director of its Center for Geographic Analysis.  He specializes in early urbanism, landscape archaeology, and remote sensing, particularly the use of declassified US intelligence imagery.  He has directed field surveys in Syria, Iraq, Turkey, and Iran.  He is the author of Urbanism and Cultural Landscapes in Northeastern Syria: The Tell Hamoukar Survey, 1999-2001 (2010).  Since 2012, he has directed the Erbil Plain Archaeological Survey, an archaeological survey in the Kurdistan Region of northern Iraq.  He is also preparing a history of Mesopotamian cities.
Speaker

Sören Stark, Institute for the Study of the Ancient World, NYU

Location

Scarsdale Public Library, 54 Olmsted Road, Scarsdale

Date

November 12, 2017

Time

2:00 pm

to

3:30 pm
Since 2016 the Uzbek-American Expedition in Bukhara (UzAmEB) is conducting new excavations at the Hellenistic and post-Hellenistic site of Bashtepa. Now situated among barkhan dunes of the Kyzyl-Kum to the west the Bukhara oasis, the site was once situated on the very border of the oasis on one of the major routes of communication to the north, towards Choresmia and from there further into Eastern Europe. Together with about a dozen of well-preserved small hamlets or individual manor houses and ubiquitous traces of irrigation canals and field systems it is part of a uniquely preserved relic landscape dating to the Hellenistic and post-Hellenistic period.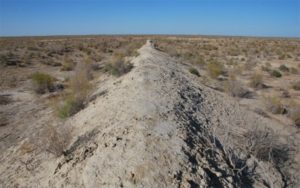 The speaker will present the results of the first season of excavations. They suggest that Bashtepa was founded as a border fortress during the Early Seleucid period after the death of Alexander the Great (end of the 4th/first half of the 3rd century CE). Of particular interest are fragments of "Greek" pottery and well-preserved remains of a pastoral campsite, occupying the summit of the site and dating to the 1st century CE, thus being contemporary with many of the kurgan cemeteries in the Bukhara region. As the first pastoral settlement from post-Hellenistic Sogdiana ever systematically studied, this has the potential to substantially improve our understanding of agro-pastoral complexity in post-Hellenistic Sogdiana and beyond.
Sören Stark studied Oriental Archaeology and Art History, Ancient History and (European) Art History at Martin-Luther-Universität Halle-Wittenberg. He received his doctorate in 2005 with a study on the archaeology and history of the pre-Muslim Turks in Central and Inner Asia which was published in 2008 as Die Alttürkenzeit in Mittel- und Zentralasien. Archaeologische und historische Studien (Nomaden und Sesshafte 6), Wiesbaden: Ludwig-Reichert-Verlag. His other works range chronologically from the Iron Age up to the pre-Mongol Middle-Ages and deal with various aspects of archaeology, art history and history in Central and Inner Asian as well as in neighboring cultural areas.
From 2005 to 2008 he led archaeological surveys and excavations in Northern Tajikistan (near Shahriston and Istaravshan/Urotepa). Before joining the faculty of ISAW he was Junior Fellow at the Excellence Cluster TOPOI and teaching at the Freie Universität in Berlin.
His main research focus lies on the political and cultural interrelations between pastoral nomads in Central and Inner Asia and their sedentary neighbors. Currently, he is preparing a book on territorial fortifications in Western Central Asia (with forth-coming fieldwork in Uzbekistan). He is also co-editor of a Handbook of Central Asian Archaeology and Art which is presently under preparation at Oxford University Press.
Speaker

Richard Hunter

Location

Scarsdale Public Library, 54 Olmsted Road, Scarsdale

Date

December 10, 2017

Time

2:00 pm

to

3:30 pm
Over the past quarter century, the Central Park Conservancy has supported numerous archaeological explorations in that exceptional rectangle of urban recreational land under its care in the heart of Manhattan.  It may come as a surprise that the creation of the Park in the late 1850s and early 1860s, and its subsequent upkeep, have far from removed all trace of earlier land use within its limits.  Historical and archaeological studies performed both in advance of landscaping improvements and as pure research endeavors have revealed unexpected evidence of Central Park's pre-park history.  The Kingsbridge Road (the old post road from New York to Albany and Boston), the military installations of the Revolutionary War and the War of 1812, the occupation of the early 19th-century African-American and Irish settlement of Seneca Village, and the surveying of the Manhattan street grid by John Randel – there are tangible below-ground expressions of all of these and more in Central Park's archaeological record.  This talk offers a brief illustrated overview of recent archaeological discoveries within the Park placing them in their historical and modern contexts.
Richard Hunter is founder and President of Hunter Research, a historical and archaeological consulting firm based in Trenton, New Jersey.  He holds a Ph.D. in geography from Rutgers University, an MA in archaeological science from Bradford University, England, and a BA in archaeology and geography from Birmingham University, England.  He has worked as an archaeological and historic preservation consultant in the Middle Atlantic region since 1977, serving on the New Jersey Historic Sites Review Board, as President of Preservation New Jersey and as Chair of the Trenton Downtown Association.  His firm Hunter Research has provided historical and archaeological expertise to the Central Park Conservancy since 1990 and has conducted numerous studies elsewhere in New York City, including on Ellis Island and Liberty Island and in City Hall Park.