Speaker

Kacy L. Hollenback, Assistant Professor, Department of Anthropology, Southern Methodist University

Location

Eastchester Public Library, 11 Oakridge Pl, Eastchester, NY

Date

March 24, 2019

Time

2:00 pm

to

3:15 pm
Contact between Old World and New World populations resulted in the exchange of ideas, technologies, and practices that dramatically changed world cultures. The Columbian Exchange also resulted in the spread of invasive species, including catastrophic Old World epidemic diseases like influenza, measles, and smallpox. The impacts on peoples in the Americas was disaster. In some areas fifty to eighty percent of the population died. Archaeology has contributed to our understanding of the spread of such epidemics. However, there has often been a focus on when and where disease outbreaks occurred and how many people were affected. Less attention has been given to what life was like for survivors. How did these individuals put their lives and societies back together after devastation?
Using theoretical assumptions from the anthropology of disaster and technology, the social impacts of smallpox on survivors can be explored. Such an approach is important, especially in areas with no written record. This presentation explores how the Hidatsa, a group of earthlodge villagers in North Dakota visited by Lewis and Clark and home of Sacajawea, responded to the smallpox epidemics of the 18th and 19th centuries. Specifically, how did individuals maintain or modify daily practice in light of these catastrophic events? This is an important topic to consider because the decisions and actions of those who endured these processes resulted in culture change and cultural survival for Native American Nations today.
Kacy Hollenback is an anthropologically trained archaeologist with interests in hazards and disaster research. She received my Ph.D. from the School of Anthropology at the University of Arizona (UA) in 2012. She now teaches at the Department of Anthropology, Southern Methodist University.
As an archaeologist, her research emphasis is on potential disruptions to traditional technological systems and the roles of traditional technologies in post-disaster coping. Most often her work examines the long-term legacies of disaster—over the course of decades or generations.
Her current regional expertise is Northern Plains archaeology and anthropology. She maintains her interest in the American Southwest. Over the last decade, she has conducted archaeological and anthropological research in North Dakota and Montana in collaboration with the Bureau of Applied Research in Anthropology, State Historical Society of North Dakota, National Park Service, and numerous Plains tribes.
Speaker

Natalie Munro, Department of Anthropology, University of Connecticut.

Location

Greenburgh Public Library, Tarrytown Road (Rte. 119), Elmsford

Date

April 7, 2019

Time

2:00 pm

to

3:30 pm
Feasting is one of humanity's most universal social behaviors, but feasts have rarely been detected in the archaeological record prior to the beginning of agriculture. This lecture presents the evidence for the earliest known feast from the 12,000 year old burial cave of Hilazon Tachtit in Israel. Community members coalesced at Hilazon to engage in special rituals including feasting to commemorate the burial of the dead. These feasts served important roles in the negotiation and solidification of social relationships, the integration of communities, and the mitigation of stress. The evidence from Hilazon illuminates how feasts became a universal part of our modern day rituals including holidays and the passage of major life events.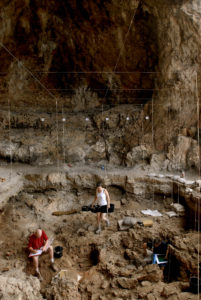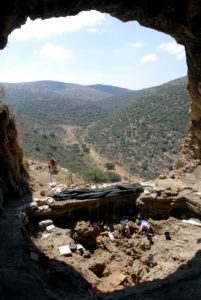 Natalie Munro is a professor in the Department of Anthropology at the University of Connecticut. She is a graduate of the University of Arizona (Ph.D. 2001), Simon Fraser University (M.A. 1994) and Southern Methodist University (B.S 1991). Munro studies the transition from foraging to farming societies in Southwest Asia using ancient animal remains. She is most interested in the formative conditions of agriculture and animal domestication, and the spread of Neolithic societies into Europe. She has active research projects in Israel, Turkey, and Greece and is published widely in peer-reviewed journals such as Science, PNAS, Current Anthropology, and Journal of Human Evolution.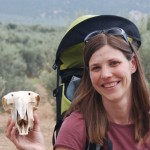 Speaker

Allison Miller, ISAW, NYU

Location

Greenburgh Public Library, Tarrytown Road (Rte. 119), Elmsford

Date

May 5, 2019

Time

2:00 pm

to

3:15 pm
The terracotta army of Qin Shi Huang, the First Emperor of the Han Dynasty (ruled 221-210 BCE), has captured the world's attention since its first discovery in the 1970s. The thousands of marionette-like figures standing in formation testify to an administration that had achieved unprecedented military power. The First Emperor's famous assemblage, however, was not the last terracotta army to be commissioned. His original assemblage inspired a long line of clay armies in the Western Han dynasty (202 BCE-9 CE). This presentation will examine these new army figurines and their relationship to the Qin precedent, reflecting on their unique style and considering what the armies reveal about warfare and politics in China's first long-lasting empire.
Allison Miller specializes in Chinese art and archaeology. She holds a Ph.D. from Harvard University (2011) in East Asian Languages and Civilizations (EALC) and Art History and an A.B. from the University of Chicago (2003) in Classics and EALC. She is currently Associate Professor of Art History at Southwestern University near Austin, Texas. Her research has been supported by Harvard's Asia and Fairbank Centers and the Fulbright Foundation. She was also a 2017-2018 lecturer for the Archaeological Institute of America (AIA).
As an art historian with an interdisciplinary approach, Miller's research investigates the relationship of visual forms to political history and contexts of artistic production. Her forthcoming book, Kingly Splendor: Materiality and Royal Art in Han China, highlights the important role played by elites outside of the capital region in stimulating five important transitions in early Han funerary art: 1) rock-cut tombs, 2) miniature terracotta armies, 3) jade suits, 4) wall murals, and 5) purple dyes and pigments. The study shows how the structure of the early Han empire—with the emperor as one amongst peers—profited artistic production in a way that would not occur after the empire became more centralized, resulting in the development of artistic genres that would form the basis of Chinese funerary art for the remainder of pre-modern Chinese history.
During her time at ISAW, Miller will write a history of color in ancient China. She will investigate the chief dyes and pigments used in China's antiquity, the process by which they were acquired and produced, and the meanings associated with specific colors. The project will reveal not only the ways that the Chinese cultivated and utilized their own mineral and vegetal resources, but also the dynamic impact of long-distance trade and exchange on early imperial Chinese society.