Speaker

Ellen Morris, Barnard College

Location

Mamaroneck Public Library, 136 Prospect Ave, Mamaroneck

Date

September 30, 2018

Time

2:00 pm

to

3:15 pm
If one can't beat an empire, one can at least attempt to subvert and outwit it at every turn. This talk will examine various strategies employed by Egypt's vassals in the northern edges of its empire to turn the pharaonic government's desire to rule on the cheap to their own advantage. Vassals who operated in mountainous areas and in frontier zones, such as those situated in ancient Lebanon, were difficult to discipline and therefore enjoyed ample opportunities to deceive imperial officials, to play competing empires off of one another, and to use the empire's might to their own advantage. Indeed, such vassals could quite literally get away with murder!
Ellen Morris is an assistant professor in the Classics and Ancient Studies Department at Barnard College. She has excavated in Dakhleh Oasis, Abydos and Mendes and is currently affiliated with the newly initiated Turning Points Project, a collaborative multidisciplinary effort aimed at exploring the transition from the Late Bronze to the Early Iron Age in the Southern Levant. This lecture draws upon material from her newly published book Ancient Egyptian Imperialism. Her other scholarly interests include sacred sexuality and performance, retainer sacrifice and divine kingship, desert travel and "island theory", as well as life in "interesting" times.
Speaker

Joseph Schuldenrein

Location

Bronxville Public Library, 201 Pondfield Rd, Bronxville, NY

Date

October 28, 2018

Time

2:00 pm

to

3:15 pm
Traditional scholars and urban archaeologists trace the roots of cities to the third millennium B.C. in the Fertile Crescent and hubs to the east and west. Independent city-state organizations emerged in the Far East and the New World albeit considerably later. More complex urban centers took root in the Mediterranean Basin by around 1000 B.C. when networks of cities dominated emerging Empires.
Cities are tied to the centrality of complex societies as commercial, social, and economic interests restructured human settlement and organization. These models point to Greece and, more importantly, Rome as the guiding blueprints for understanding city structure. To this day, Rome serves as the proto-type for the Western City in many intellectual circles, though this concept can and should be challenged in the context of our broadened understanding of Western and non-Western civilization.
In this presentation I attempt to expand our concepts of early and evolving urban structure in light of the most recent developments in archaeological science. Perhaps the single most innovative addition to traditional thinking is our understanding of urban infrastructure. Archaeological science has opened up vistas in exploration and interpretation heretofore unimagined. I cite examples from the earliest tells in Mesopotamia and the Indus Valley, and the unique city centers dotting the Nile.  At the core of the modern city's infrastructure is Rome and its satellite communities that sustained the Empire. We discuss the relative decline of urbanism in the Middle Ages and then the resurgence of the city in the wake of the Industrial Age and the contemporary world.
Dr. Joseph Schuldenrein is the President of Geoarcheology Research Associates (GRA).  He  founded the firm in 1989 and its mission has been to apply Geoarchaeology in both compliance (CRM and Heritage Management) and and research venues. He has been a Research Associate at the Center for the Study of Human Origins at New York University since 1996). Dr. Schuldenrein is former Fulbright Fellow in Geology and Archaeology (Hebrew University, Israel) and Fellow of the Field Museum of Chicago. He received his Ph.D. in environmental archeology at the University of Chicago in 1983.
His professional experience includes work across the North American continent. Internationally he has consulted on projects in Central Europe and the Mediterranean, the entire Middle East, India, Pakistan, and eastern and southern Africa. He is involved in research on Human Origins, early civilizations (South Asia) and site formation process. Most recently GRA's projects have included forensic excavations for the Saddam Hussein trials (2005-2008) on behalf of the U.S. Department of Justice and design of a baseline Cultural Heritage Management Plan for the site of Mes Aynak (Afghanistan; 2011).
Dr. Schuldenrein is currently focused on developing protocols for Urban Geoarchaeology, based on extensive excavations in his base of operations in New York City. His most recent project examines the ancient landscapes of western Oman and their relationship to the emergence of third millennium B.C. civilizations in the greater Near East. He has served as past president of the Professional Archaeologists of New York City (PANYC) and is on the Board of the Archaeological Institute of America (AIA). He has published extensively in key professional journals including American Antiquity, Journal of Field Archaeology, Geoarchaeology, Journal of Archeological Sciences, as well as monographs and contributions to numerous edited volumes.
In recent years, Dr. Schuldenrein has been active in the Society for American Archaeology's drive to restructure educational priorities in higher education towards empirical and applied objectives. Dr. Schuldenrein has been a reviewer on numerous funding and granting panels (National Science Foundation, Leakey Foundation). He has also been on television and radio to advance public awareness of professional archeology. He hosts a weekly internet radio program entitled Indiana Jones: Myth, Reality, and Contemporary Archaeology on VoiceAmerica Variety Channel (www.voiceamerica.com/show/1975/myth-reality-and-21st-century-archaeology).
Speaker

Norma Franklin, the Zinman Institute of Archaeology, University of Haifa

Location

JCC Harrison, 130 Union Ave, Harrison

Date

November 11, 2018

Time

2:00 pm

to

3:15 pm
Jezreel, mentioned over 30 times in the Hebrew Bible, has a fascinating story to tell, and the history and archaeology of this key site will be revealed in her lecture
Franklin studied archaeology at Tel Aviv University and received her PhD. from there in 2006. She has excavated at a number of sites in Israel but her interest has nearly always focused on the Northern Kingdom of Israel in the 9th and 8th c. BCE. In particular, the three great Biblical cities; Samaria, the capital of ancient Israel, Megiddo, a city famous for its "Stables,"  Jezreel, the site of Naboth's vineyard and the death of Queen Jezebel. She has researched and written extensively on all three sites, and physically excavated two of them.
In 1992 she was one of the founder members of Tel Aviv University's Megiddo Expedition directed by Israel Finkelstein, David Ussishkin, and Baruch Halpern (and later Eric Cline). Over a period of 19 years she successively supervised the excavation of four areas on Tel Megiddo. In the summer of 2011 Norma turned her attention to Jezreel. In 1990, while a student at Tel Aviv University she had participated in the first excavations conducted there, now over twenty years later she returned, co-directing renewed excavations there, on behalf of the University of Haifa, together with co-director Jennie Ebeling of the University of Evansville.
Speaker

Joan Geismar

Location

Bronxville Public Library, 201 Pondfield Rd, Bronxville, NY

Date

December 9, 2018

Time

2:00 pm

to

3:15 pm
To the urban archaeologist, trash is a treasure trove of information. This was highlighted by excavations at the 175 Water Street block in Lower Manhattan, one of Manhattan's early landfill sites. Literally created from 18th-century detritus, and then the repository of 18th- and 19th-century trash, the block's debris included a 100-foot merchant ship scuttled to structure the garbage-laden landfill. The derelict hulk was the site's most extraordinary example of urban trash as well as its most spectacular artifact. This, and the more than 1,000,000 less sensational artifacts recovered from the site, as well as the research prompted by the finds, raises the question: is garbage trash or is it treasure? You be the judge.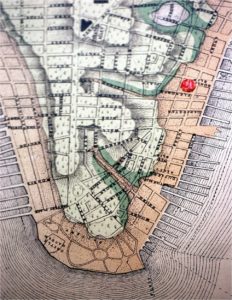 1875 Viele Map of "made land" (tan), detail; 175 Water Street Block indicated by red dot
Joan Geismar is a practicing urban archaeologist in the New York‑metropolitan area. She received a doctorate in Anthropology in 1982 and is a founding member and current president of Professional Archaeologists of New York City, Inc., (PANYC). She serves on the Preservation Committee of the Municipal Art Society and has received several preservation awards. In 1999, she was designated a Centennial Historian of the City of New York City. Her research interests include, but are not limited to, community studies and the development of the urban condition, including landfill, transportation, housing, and sanitation issues.
Speaker

Phyllis Saretta

Location

Metropolitan Museum of Art, 1000 5th Avenue, New York

Date

December 31, 2018
Cloth and garments in ancient Egypt were considered to be one of the most important components of a person's life. Clothing was not only functional, but was symbolic of a person's social position. Cloth was highly valued and appeared as a major feature in the list of tomb offerings. Cosmetics, jewelry and other accoutrements were not only ornamental, but were believed to have magical properties attached to them as well.
This tour would examine transitions in ancient Egyptian fashion from the severe to the frivolous. Objects and images include shirts, dresses, sandals, mirrors, kohl tubes, razors, jewelry, wigs, and hair ornaments from the collection of Egyptian Art at the Metropolitan Museum.
ARE YOU INTERESTED IN A SPECIAL TOUR FOR THE WESTCHESTER SOCIETY
Date to be determined