In The Invisible History of the Human Race, author Christine Kenneally gives us a highly accessible account of the historical human journey revealed by the science of genetics.  It includes enlightening descriptions of genome research projects, the connection between genetics and evolution, and the benefits and drawbacks of genealogy. A linguist and journalist, she presents scientific research data and anecdotal personal stories that center on individual human development, families, communities, and cultures.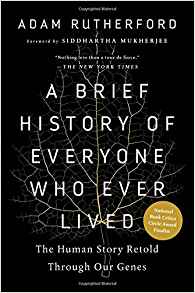 Should Kenneally's highly personal style not be to your liking, A Brief History of Everyone Who Ever Lived by Adam Rutherford is your alternative.  He too addresses the genomic history of humankind in what The New York Times Book Review said was "a tour de force–a heady amalgam of science, history, a little bit of anthropology, and plenty of nuanced, captivating storytelling."
Science writer Rutherford "explains
 how genomics is completely rewriting the human story–from 100,000 years ago to the present…[It] will upend your thinking on Neanderthals, evolution, royalty, race, and even redheads."
The book elected for the April 19 meeting is Krakatoa: The Day the World Exploded: August 27, 1883 by Simon Winchester.