To the urban archaeologist, trash is a treasure trove of information. This was highlighted by excavations at the 175 Water Street block in Lower Manhattan, one of Manhattan's early landfill sites. Literally created from 18th-century detritus, and then the repository of 18th- and 19th-century trash, the block's debris included a 100-foot merchant ship scuttled to structure the garbage-laden landfill. The derelict hulk was the site's most extraordinary example of urban trash as well as its most spectacular artifact. This, and the more than 1,000,000 less sensational artifacts recovered from the site, as well as the research prompted by the finds, raises the question: is garbage trash or is it treasure? You be the judge.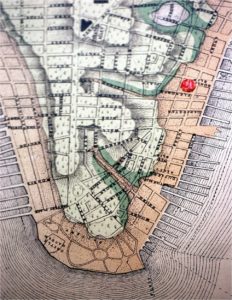 1875 Viele Map of "made land" (tan), detail; 175 Water Street Block indicated by red dot
Joan Geismar is a practicing urban archaeologist in the New York‑metropolitan area. She received a doctorate in Anthropology in 1982 and is a founding member and current president of Professional Archaeologists of New York City, Inc., (PANYC). She serves on the Preservation Committee of the Municipal Art Society and has received several preservation awards. In 1999, she was designated a Centennial Historian of the City of New York City. Her research interests include, but are not limited to, community studies and the development of the urban condition, including landfill, transportation, housing, and sanitation issues.